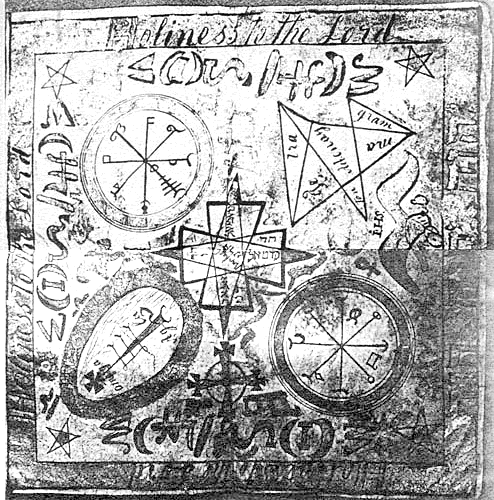 Holiness to the Lord Parchment
This image reflects a recreation of one of three magic parchments found among Hyrum Smith's possessions. This parchment is called the Holiness to the Lord Parchment because of the phrase appearing on each side. The purpose of this parchment seems to be to procure a visitation from a supernatural being. This parchment suggests that the Smith family had more than a passing interest in magic, and easily blended Christianity with magic. Interestingly Mormon temples (sanctuaries for the divine) also have the inscription "Holiness to the Lord" on them.
As with the other two parchments, many of the magic symbols are copied directly out magical texts, including The Magus by Francis Barrett published in 1801, the New and Complete Illustration of Celestial Sciences by Ebenezer Sibly published in 1784, and The Discoverie of Witchcraft by Reginald Scot published in 1584.
 All of the parchments likely belonged to Joseph Smith Sr. and Joseph Smith Jr., but were inherited by Hyrum's family after Joseph's and Hyrum's death in 1844. This parchment is uniquely covered in a gold, reflective material, like foil. It is in the property of a private collector and unfortunately there are no other photographs available.
Learn More:
Image Credit- Early Mormonism and the Magical World View