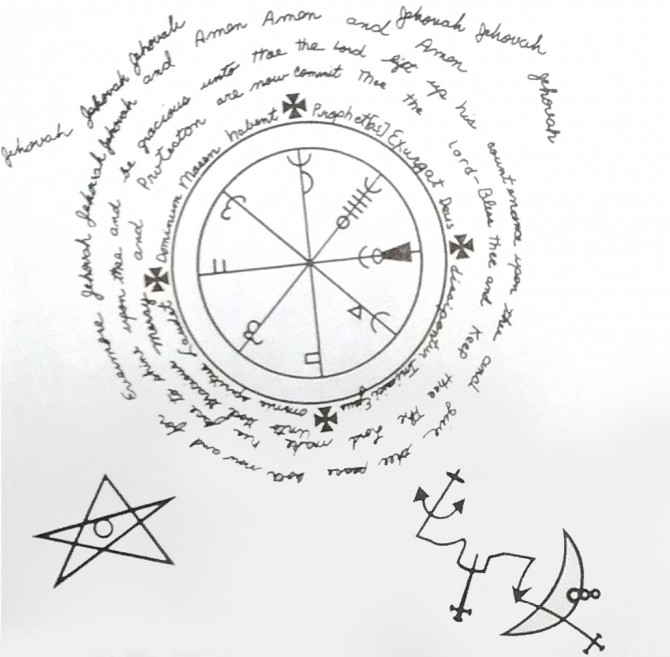 Jehovah, Jehovah, Jehovah Parchment
This image reflects a recreation of one of three magic parchments found among Hyrum Smith's possessions.  The above-depicted parchment is called the Jehovah, Jehovah, Jehovah Parchment because of the set of three Jehovahs in the upper right and the set of three Jehovahs in the upper left. The purpose of this parchment seems to be to protect its owner from evil.  This parchment suggests that the Smith family had more than a passing interest in magic, and easily blended Christianity with magic. For example, the center has a magical seal surrounded by scripture from Numbers 6:24-26, while the bottom right has the symbol for the demon Jubanladace.
As with the other two parchments, many of the magic symbols are copied directly out magical texts, including The Magus by Francis Barrett published in 1801, the New and Complete Illustration of Celestial Sciences by Ebenezer Sibly published in 1784, and The Discoverie of Witchcraft by Reginald Scot published in 1584.
All of the parchments likely belonged to Joseph Smith Sr. and Joseph Smith Jr., but were inherited by Hyrum's family after Joseph's and Hyrum's death in 1844. This parchment is in the property of a private collector and other than a poor quality copy of a photograph, only eyewitness accounts and descriptions are available.
Learn More:
Image Credit- Early Mormonism and the Magical World View (Connie Disney recreated this illustration from a faded photo of the original)